13th student meeting : Ecology and Behaviour.
The only international meeting free for student in France !

Ecology & Behaviour - 13th meeting from Aurélien Prudor on Vimeo.
Created in 2005 by students from the Centre d'Etudes Biologiques de Chizé, the 'Ecology & Behaviour' meeting is back for the third time in his hometown from the 19th of June to the 23th of June 2017.
Young researchers of all nationalities are invited to present and discuss their work focused on the themes of ecology, evolutionary biology and animal behavior. All the meeting is in English and also hosts recognized specialists in the various topics covered, all in a very convivial atmosphere.
Like the twelve previous editions, the 'Ecology & Behaviour' meeting is organized by and for students. The accommodation and meals are fully supported and no registration fee is required to participate. You only have to organize and fund your coming.
The emphasis will be on popularization of science , that is, the dissemination of scientific knowledge to a non-expert audience.
We encourage you to deposit photos and videos of your study subjects, which we can enhance in short films accessible to the general public!
An evening debate "Redissieminating scientific knowledge: who and how?" will be organized the first evening around a collaborative buffet.

Excursions will also be offered on Wednesday afternoons, followed by a gala evening.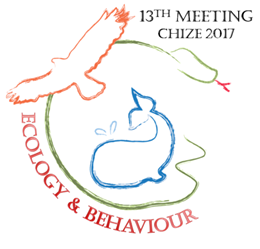 If you are a master, PhD or post-doc student, this meeting is a perfect opportunity to participate in a major international conference and discover the latest developments in ecology and animal behaviour!
This year, the conference will become also more involved in projects to disseminate knowledge. Participants will be asked to share their daily work, photos and films, and possibly their results, with a wide audience, in particular via the conference website, and in partnership with students from the University of La Rochelle.
The Organizers: